This Tuesday April 30th, 2019 was the last day of the Heisei Era. I feel extremely privileged to live in Japan at this historical time and experienced what most Japanese also live for the 1st (and only hopefully) time in their lives.
This very coded abdication ceremony took place at 5pm on Tuesday in the most prestigious room of the Imperial Palace. It was so serious that it felt weird. we could hear the footsteps on the floor. the speeches from both Prime Minister Abe and Emperor Emeritus Akihito only lasted a minute, the whole thing was wrapped up in less than 10′
The chamberlains brought 2 of the 3 symbols of the Imperial House, the sword, kept in Ise Shrine, the jewel kept at the Palace itself. was missing the mirror as it is never transported. The 2 seals, one for Japan, one of Emperor were also put on the tables around him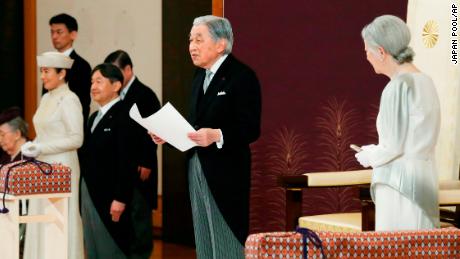 His family was lining on each side of the stage, starting with his son Naruhito who will be enthroned on Wednesday morning.
Let me wish this couple a peaceful retreat after a life of constraints, I know there is worse in life, but it feels like they have lived among codes, rituals, imperial rules of old times, as every retiring person, I hope they will have time to enjoy their home, first at Takanawa then in Akasaka, where their children were born.